Face coverings from Monday 15th June 11/06/2020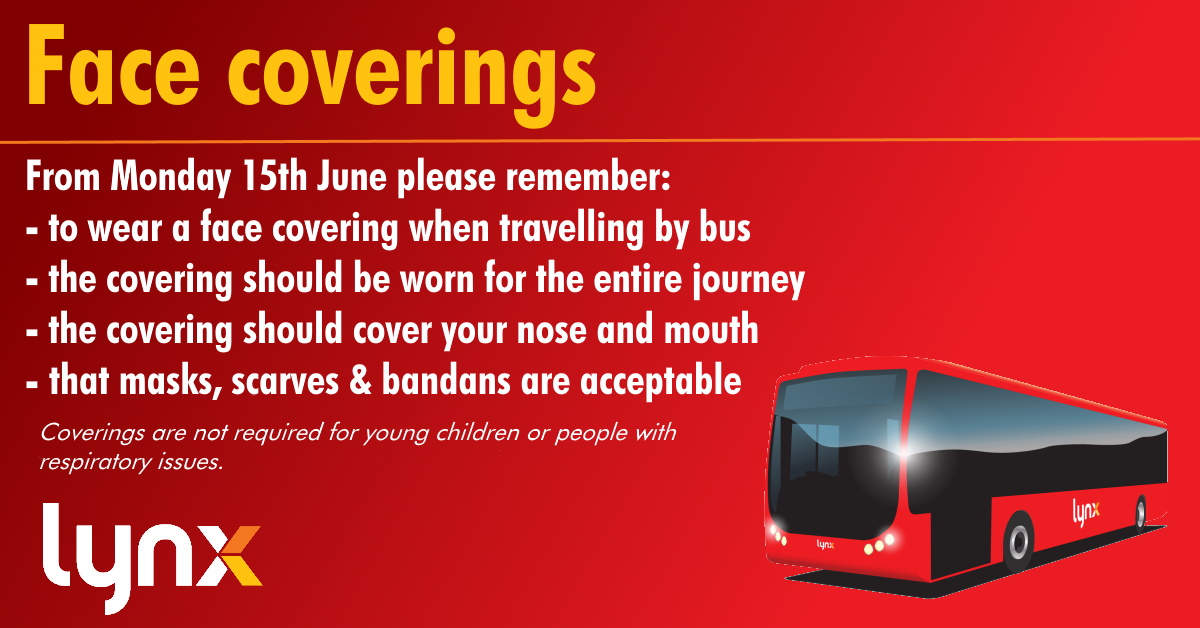 Please remember that from Monday 15th June UK Government guidance states that face coverings are required on forms of public transport in England, including all of our buses. Please remember that:
the covering should be worn for your entire journey with us
the covering should be over your nose and mouth
masks, bandanas and scarves are acceptable
our driving staff are not required to wear a mask as are working behind a protective screen
some other passengers may not be wearing masks as there are several exemptions*
This guidance is in place as social distancing isn't necessarily possible in enclosed spaces such as buses and trains.
You can find out how to make and wear a covering online here. 
*Exemptions
If you are exempt from wearing a covering please inform your driver when boarding the bus. The exemption list is for those with:
- breathing difficulties and other respiratory conditions.
- conditions effecting their dexterity, meaning they are not able to put on a face covering.
- mental health conditions such as anxiety or panic disorders.
- other non-visible disabilities such as autism.
- cognitive impairments, including dementia, who may not understand or remember the need to wear a face covering.
- visual impairments, with a restricted field of vision, particularly if any residual vision is at the lower edge of the normal field of view.
- impairments which would make it difficult to put on or take off a face covering safely, accurately, consistently or without pain.
The exemptions also apply to those who rely on lip reading. This would include carers who are travelling with someone for whom a face covering will inhibit communication.
You will also be able to remove your face covering for eating/drinking if necessary and taking essential medication.
The regulation will not apply to children under 11, or children on dedicated school transport services.
The above list of exemptions is not exhaustive and would extend to someone who has a justifiable reason for not wearing one on the grounds of health or disability not outlined above